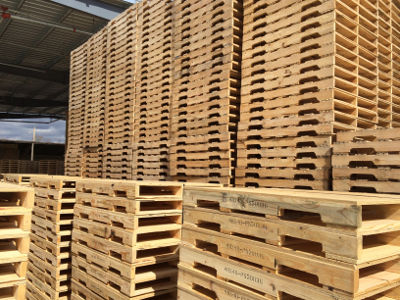 Take time to consider the needs of your product in shipping. No matter your needs, we can build to your specifications. Pallet Resource is a licensee of the Pallet Design System (PDS). PDS is a computer assisted design program produced by the National Wooden Pallet and Container Association and Virginia Tech. This system is the undisputed design standard within the wooden pallet industry. PDS allows us to properly design and build the right pallet for the right application. A properly designed and constructed pallet means less chance of your product being damaged in shipment.
We manufacture pallets and skids using all new materials using locally available mixed hardwoods and softwoods.
Our offerings include:
2-way and 4-way stringer pallets
Block Style pallets
Panel deck pallets
Multi-use pallets
Expendable pallets
Point of purchase pallets
Government specification pallets
Certified for export in accordance with ISPM-15
Pallet Resource can also provide pallets made of alternative materials should your situation require:
Corrugated
Engineered wood fiber
Extruded and molded plastic
Call Pallet Resource of NC (336) 731-8338 today to discuss how our new wooden pallets can meet your shipping handling needs.