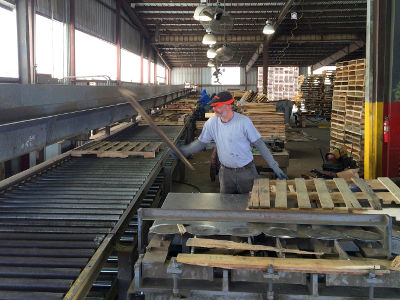 The four "R's" of wooden pallet recycling are Reuse, Repair, Recycle, and Renew. Pallet Resource incorporates these environmental philosophies in every possible aspect of our operation. We will recycle literally millions of wooden pallets annually (whether through repair, disassembly or grinding). Can you imagine the landfill space saved within our environment and the money saved by local business and industry because of our efforts?
A great cost effective way to ship your product while preserving our precious natural resources is by using a quality repaired pallet rather than a new pallet. Just think of both saving money and supporting recycling at the same time. A properly repaired pallet will continue to give multiple performance opportunities.
Pallet Resource can provide many sizes and styles of used pallets. Repairs are made in accordance with the high standards adopted and published by the National Wooden Pallet and Container Association. An important distinction that sets us apart from our competition is the quality of the fasteners we use. Scientific data has proven that a higher quality fastener makes a positive impact on durability, especially on a repaired pallet. Pallet Resource uses .105 diameter helically threaded nails in repairs.
Contact us at (336) 731-8338 to see if repaired pallets can be a part of your comprehensive logistics solution.